CAMPUS Asia Concept Book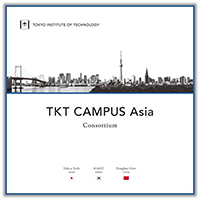 ■Types of Program
A) KAIST Summer Program
This is an intensive program consisted of courses in basic Korean and special lectures on science and technology. The credits earned at Korea Advanced Institute of Science and Technology (KAIST) can be transferred. The program also offers field trips and technical tours to give a broad understanding of Korean culture and cutting-edge technologies.
B) Tsinghua University CAMPUS Asia Program
This program is designed exclusively for students who are interested in conducting research at Tsinghua University. Students will be assigned to a laboratory and an academic advisor of their choice. They can apply for the program at any time of the year given a minimum three-month stay. Students can take regular semester courses as well.

■Participating University
Korea
KAIST
China
Tsinghua University


■Program Support
1. Monthly scholarship
KAIST
Undergraduate students: KRW800,000/month
Graduate students: KRW900,000/month
Tsinghua University
Undergraduate and Master students: RMB3,000/month
Doctoral students: RMB3,500/month
2. Accommodation
KAIST
On-campus dormitory (paid from monthly scholarship)
Tsinghua University
On-campus dormitory for no charge

■Academic Calendar
KAIST 
Spring Program: March - June
Summer Program: August
Fall Program: September - December
Tsinghua University
Autumn Term: September - January
Spring Term: February - August
*The above schedule is subject to change.