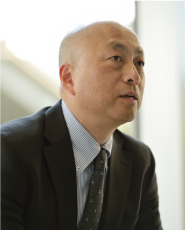 Professor Masahiko Hara
TKT CAMPUS Asia
Project Leader
The CAMPUS Asia program is a joint educational and research exchange program to promote international exchanges between universities in Japan, China and Korea.
TKT CAMPUS Asia Consortium (the "Consortium") consists of three world-class universities in the field of science and technology in East Asia: Tokyo Institute of Technology (Tokyo Tech), Korea Advanced Institute of Science and Technology (KAIST) and Tsinghua University (Tsinghua).
The Consortium aims to provide students with a strong motivation toward becoming globally-oriented future leaders with cultural awareness; to nurture students into becoming globally competitive human resources; and to enhance higher-quality education in Asia through joint supervision of students by academic supervisors from both host and home universities.